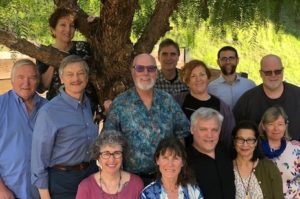 Water
February 23, 24 and 25, 2018.
We are excited to present a concert of unaccompanied choral works referencing water in its many forms. The repertoire is inspired by Sanford Dole's 11-minute work, "Water: Making Everything New," based on Native American poet Paula Gunn Allen's poem, which references many bodies of water by name. It's quite a confluence, if you will, of "lakes and rivers, oceans and streams, springs, pools and gullies," and much more.
Fri., Feb. 23, 8:00pm     Good Shepherd Lutheran Church, 1180 Linwood Drive, Novato
Sat., Feb. 24, 8:00pm     St. Gregory of Nyssa Church,500 DeHaro Street, San Francisco
Sun., Feb. 25, 4:30pm     Paul Mahder Gallery, 222 Healdsburg Avenue, Healdsburg
One of our Stars, Laura Louis, describes the program this way:   Sanford Dole's piece, "Water Making Everything New," set to Paula Gunn Allen's "He Na Tye Woman," syncopates, interrupts, trickles, and cascades through the many bodies of water both specific and generic.  Thrilling to sing and hear.  Some of the pieces are deeply moving, some jazzy and finger-snapping.  Half new and half most likely familiar, some rhythmically challenging, and some with dense, tight harmonies, we give you WATER in many of its forms: rain, snow, rivers, lakes; the "hoarse murmur of the sea," as set by Eric William Barnum; "troubled" in Paul Simon's pledge to ease our interesting times; and "still," in John Milne's setting of Edith Sitwell's "Still Falls the Rain," still as in enduring and everlasting, whose affirmation closes with Christ on the Cross— "Still do I love, still shed my innocent light, my Blood, for thee" — whose musical suspension is resolved only on that final word.  Tears, yes, and blood, which is 92 percent… water.
General admission tickets may be reserved in advance for $25 and will be available for $30 at the door.  Student admission is $10.
To purchase in advance, either send a check (payable to Sanford Dole Ensemble; mail to Ruth Wells, 335 Jacquelyn Lane, Petaluma, CA  94952)  or  "donate" the ticket amount through our PayPal account from our website:   www.sde.org/donate.   Then email northstarvocal@gmail.com to let us know which performance you'd like to reserve your ticket for Will Call.
There is much about this concert that will move people…"Rain. After a lifetime of drought…making everything new."  Considering how little rain we've had this season, the thought of it is almost intoxicating right now, isn't it?  Conveying that thought will emotional depth is what excellent choral music can do.  Join us at a performance to drink it in!
*****
North Star Vocal Artists is a high-caliber amateur, auditioned performance ensemble centered in the North Bay. We present "contemporary choral classics…and the best of the rest."
North Star was created to fill a perceived need in the North Bay – a chamber choir focused on the wealth of beautiful choral music composed since 1980. Not wanting to completely limit the possibilities for programming, the "best of the rest" in our tag line allows for the appearance of gems from earlier in the 20th century, as well as the occasional work from previous eras.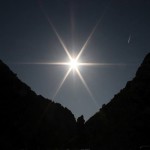 Sanford Dole, Artistic Director
RuthE. Wells, Executive Producer
North Star Vocal Artists is a project of Sanford Dole Ensemble, a 501(c)3 nonprofit organization.